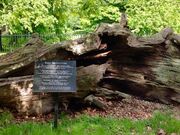 The Great Oak
is an ancient tree in Greenwich Park. It is said to have had a strong link to the Tudor dynasty. King Henry VIII and Anne Boleyn danced around it, and their daughter Queen Elizabeth I often took refreshment while sitting in its shade. Also it supposedly was used as a lock-up by park police.
It has been dead since the late 19th century, and a strong growth of ivy supported it until a rainstorm caused it to fall in June of 1991.
In the fictional world of Deptford
Edit
According to legend, this is the very tree that grew from the acorn in which Ysabelle imprisoned the evil rat god Hobb. While a twig or leaf of it remains in existence, he cannot escape.